Business Administration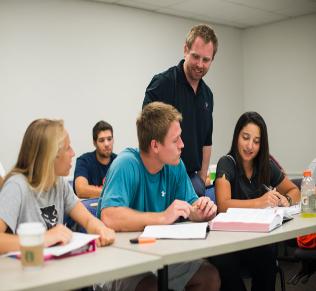 We define business administration as the efficient utilization of all business resources—including new ideas, goods and processes—toward the dual goals of enhancing profit and creating a better society. Our approach to teaching is both conceptual and practical. You'll learn insights from the wisdom of past and present scholars, but you'll also apply these ideas to real-world business scenarios, including ventures you'll help orchestrate. Most of our faculty have business consulting or business management experience and bring their case examples and applied research into the classroom.
When we're asked why study business administration as an undergraduate student at Florida Tech, we say "experiential learning." You might work on a project with students from other universities around the world or help solve a business problem for a local company. You will gain valuable experience through the Major Field Practicum, and you might even start your own business with the guidance of an experienced mentor. So why study business administration at Florida Tech? Because you can build valuable résumé experience, participate in Intercollegiate Competitions, Study Abroad, collaborate with international peers on the X-Culture Project, contribute to research work, start your own business and learn from industry experts. When you study business administration, you will learn to manage change, create value and identify opportunities to innovate in uncertain, technology-driven business environments and graduate ready to think critically, creatively and strategically. In short, you will learn to be a leader.
Studying business administration is a subject best learned by doing, and that's exactly how it is taught here. Whether you spend your time working with an actual company, starting your own business or contracting as a consultant, you will walk out of Florida Tech with the confidence to take on the business world. The same is true of students who pursue one of our graduate degrees in business administration, which include the Master of Business Administration (MBA) and the Doctor of Business Administration (DBA).
Mastering Business Administration
The Master of Business Administration (MBA) is a professional degree that gives students hands-on experience in applying key concepts that span core business disciplines of accounting, finance, marketing, management, and economics. Our focuses on honing technical and managerial skills necessary for dealing with the global challenges of the 21 century. A key component is creating solutions while working effectively in a multicultural team environment. learn about strategic management and executive leadership necessary to address complex problems associated with today's technology-driven environment. Business faculty with a strong entrepreneurial spirit bring into the classroom a depth of knowledge and real-world experience within and across industry sectors.
Florida Tech's MBA program has been designed in a way that allows students to explore what it takes to be an entrepreneurial leader to add value and manage change in a global environment. You will become an effective communicator through networking with business leaders and successful entrepreneurs. You will learn how to think critically, solve complex problems, and collaborate effectively all while placing theory into practice. You will apply critical thinking through experiences such as analyzing business cases and related ethical issues, exploring new venture development, conducting financial analysis of publicly traded firms, and developing strategic plans for multinational corporations. Florida Tech's MBA program places great value on leadership, innovation, and entrepreneurial spirit. This is reflected through key opportunities provided to MBA students such as intercollegiate competitions, market research projects, financial analyses, management consulting experience, and much more. As a future business leader, you will gain practical experience in applying theories, methodologies, and techniques learned in the classroom to addressing real-world issues.
DBA: The Ultimate Business Administration Degree
The
Doctor of Business Administration (DBA)
is a research-based doctoral degree that prepares students with the advanced knowledge necessary to manage complex corporate environments at the highest level. Our
DBA
provides expert education for professionals
with at least five years of managerial experience
interested in becoming leaders in business, government, education, healthcare and non-profit industries.
Students in the DBA program
apply theory, advanced research skills, and an understanding of the challenges facing the public and private business sectors to develop their skills. With a focus in strategic planning, organizational behavior, human resource management, financial management, innovation and entrepreneurship, quantitative research, and more, the DBA is the ultimate business degree. The program is offered in Huntsville, Alabama through the FIT Huntsville location and on the university's main campus in Melbourne, Florida.
Florida Tech's DBA program is a cohort program designed to facilitate peer-to-peer learning. The program's curriculum structure allows professionals to complete their DBA in three years, meeting one weekend a month each semester for the duration of the program with an intense research component in the final year. The program will strengthen student's research skills while challenging them to solve complex problems across industries in a global economy. Florida Tech's DBA program offers many advantages for individuals to compete successfully in today's dynamic business environment. You will gain a fresh outlook on business by exploring up to date research and problem solving methods. Graduates of the program advance their careers by gaining new capabilities. Further, networking opportunities are readily available. The program atmosphere creates an easy interaction amongst a diverse group of students who are already leaders in their community.