Recycling At Florida Tech
Single-Stream Does Not Mean Everything
Florida Tech is currently transitioning fully to single-stream recyclables collection. While this means plastic bottles, cans and paper can go in the same recycling container, it does not mean everything can. Plastic bags, glass, trash, and food are some of the most common contaminants to our recycling stream.
Beyond the material of a given item, there are many factors that play into what can be recycled and where, from the capabilities of our local processing facilities to global politics and economics. This can very state to state and even city to city! In Melbourne for example, glass is not recyclable at Florida Tech because of our scale and operations limitations but can be recycled residential curbside. See below for Florida Tech's latest single stream recycling guidelines.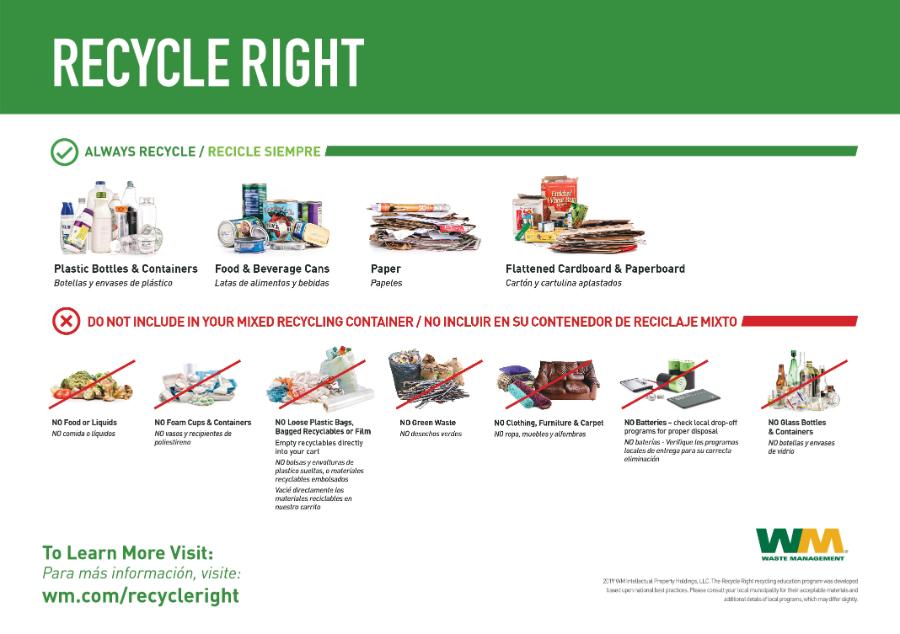 In addition to our recycling collection via Waste Management, Florida Tech has separate collections for specialty items that cannot be recycled via single stream such as batteries, electronics, aerosol cans and more. See How to Recycle at Florida Tech for detailed information.
Rethinking how we Recycle at Florida Tech
As our campus grows and expands we must rethink and revamp old systems to meet the changing needs of the student body and sustainability. Since we all live on the Earth, the state of our planet affects us all even when the impacts are hidden. The good news is there are plenty of positive actions individuals can perform to help protect and preserve the natural ecology of our planet. In an effort to meet the needs of our growing campus and changing world, we are in the process of reworking our recycling program; making it more convenient and effective for Florida Tech Faculty, Staff, and Students. The program is still a work in progress, but the goal is a multi-level approach that spans from awareness initiatives to expanding current resources and beyond.