You Are What You Wear: Requesting Florida Tech Apparel
T-shirts, hats and other wearables
University departments and student organizations are welcome to design and procure clothing items that represent their group and help them to build school and team spirit. See the Graphic Identity Policy for guidelines regarding student organization graphics. If you would like your items to include the Florida Tech logo, you must request a design through Creative Services. If you are producing such items as a giveaway, they would fall under the "Promotional Items" category.
Embroidered Apparel
The preferred style for embroidered apparel is the stacked orientation of the primary logo positioned on the left chest area. University units (such as colleges, departments, offices, etc.) are also authorized to add their unit name to the design as illustrated below. This official artwork must be used without any modifications. When possible, choose a fabric color from within the university color palette. Need help? Contact Creative Services.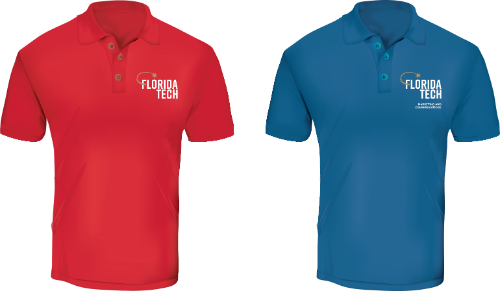 Embroidery Lockup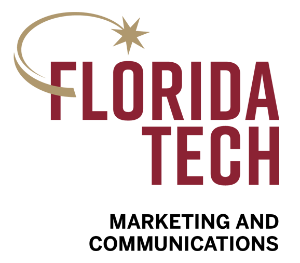 Color Variations
The logo should be embroidered in a color offering the most contrast and readability based on the fabric color. Options include:
Crimson text with Gold orbit/star
White text with Gold orbit/star
Black text with Gold orbit/star (for embroidery only)
Solid black, white, crimson or gold
Recommended Vendors
Your Logo by Geiger has the Florida Tech logo and the embroidery lockup on file for ordering polo shirts. If using other vendors, ensure they have the approved logo and usage guidelines.
Need help? Contact Creative Services.