Primary Logo
The Florida Tech logo reinforces the university brand through modern typography and artistic elements that convey forward momentum and the university's space industry roots. The orbit and star give homage to the university seal, while the sans serif, uppercase typography conveys bold determination.
The tagline logo must be used as the initial identifier for the university on all communications. Projects that include subsequent usage of the logo (on the back cover or interior pages) may use the stand-alone primary logo.
Separate the primary logo from other page elements by a minimum distance of the cap height or arm height of the "F" in Florida Tech as illustrated below:

Use the Primary Logo on Second Reference in
Recruiting materials

Branding/advertising materials

Institutional advancement materials

Student activities/student life materials

Forms and certificates

PowerPoint presentations

Departmental brochures

Alumni publications

Websites

Emails

University transportation fleet

Promotional items and collateral

Any publication for external audiences
Size and Color Variations
Minimum width
Stacked logo: 0.75"
Horizontal logo: 1"
Color variations
Two-color: Crimson text with gold orbit/star
Two-color: White text with gold orbit/star
One-color: Crimson
One-color: Gold
One-color: Black
Reverse: On any solid color background
Placing the Logo
Anchor the stacked logo on the right side—to the page edge or design "edge," such as a column break, vertical rule or frame. Rarely will this version of the logo be centered.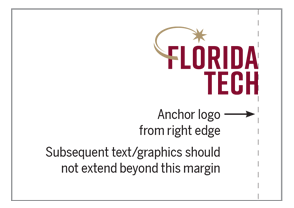 Anchor the horizontal logo from the left or center.
To left anchor, align from the "F" in Florida Tech, rather than the edge of the orbit.
To center, use the halfway point between the left edge of the "F" in Florida Tech and the left edge of the orbit as the left margin and the right edge of the "H" in Tech as the right margin.

Follow These guidelines
Do place the logo prominently, and follow the guidelines for appropriately anchoring the logo.

Don't use the orbit or star as individual design elements, nor incorporate as part of another mark or design.

Don't use the logo close to or over distracting design elements and incorporate as part of a larger pattern or design element.

Don't add graphic effects, like a drop shadow, bevel or glow, to the logo.
Don't change any aspect of the orbit, star or wordmark or their proportionate relationship in size and spacing.
Don't attempt to recreate the logo (by scanning, redrawing or typing) or substitute another.
Retired Marks
The following marks and any variations are retired and are no longer supported.